Everybody works hard to build a dream house where they can have all the luxuries they have dreamed of since childhood. Some people like adorable lighting and all the latest features possible with home automation. Things have got advanced when it comes to building a technology-driven automated home. Home automation has become so popular. The reasons are quite obvious: it enables you to set temperature, enhance home security and keep track of people entering and leaving your home. This article will explain theimportance of home automation and why you need it to build your dream home.
Although home automation is the need to live in the current digitally oriented world, some developed countries have already reached their highest level.
Importance/Advantages of Home Automation
In the past few years, home automation technology has transformed into one of the fast-growing tech markets. An extensive range of products has made life much simpler and more convenient. It has become much more affordable and certainly has more reach. People choose this technology because they feel safer and can control everything from speakers to locks. With such an amazing suite of services, everybody wants to install the best smart home system in Dubai to live up to the latest standards.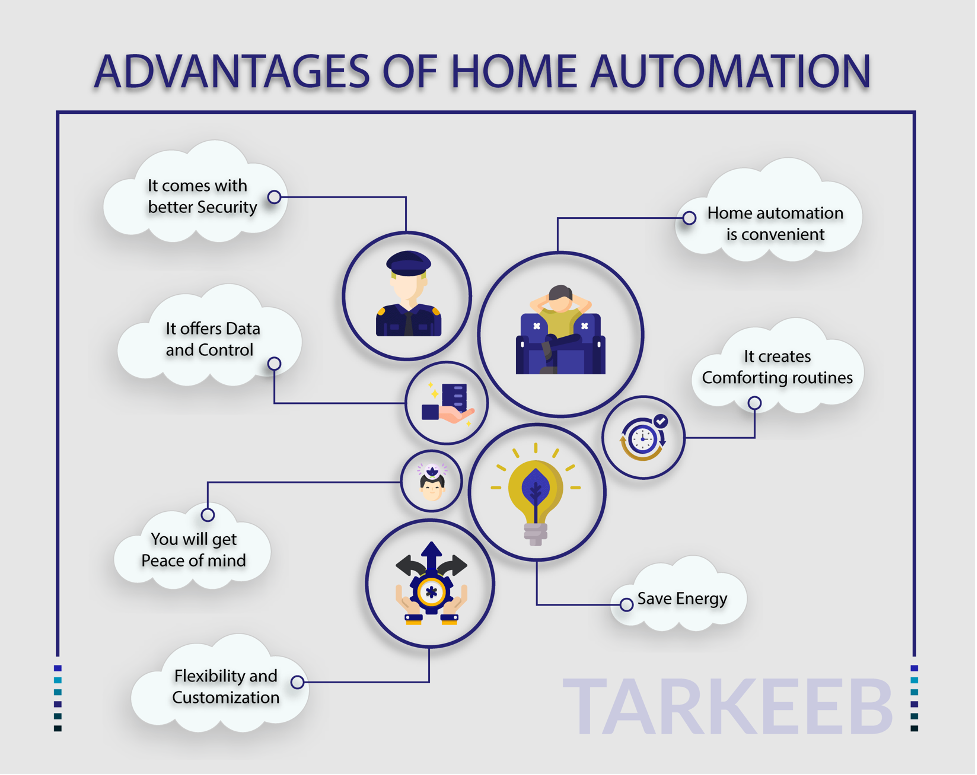 Here is an explanation of why home automation is important and why you should consider it when building your dream home.
1) It Comes with Better Security
The advanced home automation systems come with hi-tech motion detectors that ensure the perfect security for your home. Whether you want to turn on/off the outdoor lights, record video, or enable your alarm to notify you in the presence of an intruder, you will get everything with home automation.
Moreover, you can create a chain reaction. For example, if there is an intruder on your porch, it triggers the motion detector at the doorbell camera. The doorbell camera can record the video, and you can turn on the lights to let the intruder know that someone is at home, or you can use a speaker to play the barking sound of dogs. The latest tools even notify the local law enforcement authorities.
2) Home Automation is Convenient
The devices used in home automation systems are not complex to control. You can use your smartphone to easily control the devices, allowing you to adjust the system from anywhere at any time. Whether you are a few hours away from home and just want to stay in bed, you can still control your automation system.
Moreover, you can pair up your home automation gadgets with voice assistants. You can even control the device through your voice if your phone is equipped and compatible with the system.
3) It Offers Data and Control
The smart home devices are connected to your mobile phone apps, allowing you to have detailed reports and controls at your fingertips. You may not get access otherwise. With a smart home automation system, you will be notified when someone adjusts the thermostat manually. Moreover, you can give each house member a smart lock or security PIN. It allows you to receive a notification when a family member gets home.
With such an advanced system, you can significantly improve your home environment. So, why not try a reliable and secure smart home system and live just as you wish?
4) It Creates Comforting Routines
Most people, especially adults, use this smart home technology to record their favorite shows or play music at home. The connected devices create a comfortable environment, providing adaptive lighting, temperature, and sound. All these things are key to creating a tempting atmosphere. On top of that, you can even set various routines for your different moods. Whether you like bright lighting and fast music in the morning or want gentle music at night, you can enjoy these luxuries with a smart home system.
Moreover, you can create routines to start during particular hours of the day with your voice command. There are no complications; you can easily set everything up at once and enjoy all features daily.
5) You will Get Peace of Mind
Home automation technology lets you know everything is secured and controlled without hassle. You can know whether you closed the door or not while at work. Using an app, you can verify everything remotely. A technology used in home automation known as geofence lets you know whether exterior doors lock or the lights are on or off.
One of the best things about home automation systems is that it lets you know all the potential risks that may occur in the home. You can monitor your baby and kids with regular checks on your loved ones using smart system cameras. Moreover, the latest systems come with pet cameras to make checking on your fur babies easier.
6) Home Automation can Save Energy
If you want an eco-friendly atmosphere and to take care of your mother earth, home automation does support green living. It helps you save energy by turning it on and off at specific times against environmental factors. It also cuts the utility cost of electricity over time. There are thermostat sensors used in automation systems that take your home to energy-saving mode when you are not in a specific area of the home or not in your room. This way, your home will consume less electricity and save some money on your bills.
So, if you have decided to remodel your home with a smarthome system, you will need to take some big steps toward promoting a green atmosphere and giving back to nature.
7) Flexibility and Customisation
One of the best things about home automation is that you can tailor it according to your specific needs and budget. For example, some people prefer tablets to mobile phones for easy viewing. So, they can set up voice commands using smart assistants like Alexa or Siri and customize the control panel, remote controls, etc. It will be much easier and more flexible to control the shades or turn on/off the TV.
Why is a Smart Home Automation System Needed?
Everybody needs a smart home automation system for several reasons, but we'll discuss a few of them that will be enough for you to think about for your dream home.
1) Remote control
With advanced smart home automation, you will be worry-free whether you leave your TV turned on at home or work. You can turn it off even if you are miles away from your home. Such smart home systems enable you to control all the connected and compatible devices remotely without any difficulty since you can easily control devices while at work or on vacations miles away; it makes it the perfect need for you to get the smart home system.
2) Intelligent security
Another reason you choose a smart automation system for your home is the security it provides. The system has the best and most reliable solutions to help you manage your home security. It allows you to collect data through devices such as sensors and cameras. Consequently, analysing this data will help you increase your home security.
3) Amazing lighting
Using the latest smart home automation system, you can manage the lighting in your home. It allows you to change the intensity and brightness of the light as per your moods.
4) Shading control
With a home automation system, you can control heat gain and cooling, which is important for maximizing the natural lighting in your home. This shading control will enhance your mental and visual comfort drastically. Moreover, it will help you easily balance between artificial and natural light, reducing the discomfort and glare that disturb you.
5) Audio and video devices
The hi-tech and advanced smart home automation system can assist you in controlling audio and video gadgets, allowing you to create a relaxing and peaceful environment in your home. Using audio and video devices according to your mood will help you release all the tension of the day.
6) Scene control
Scene controlling makes your special occasions more memorable as it allows you to customize the house and lighting as you see fit. You can change the lights to freshen up your mood while providing you with peace of mind.
7) User interface
Almost every smart home system is designed to understand and meet the homeowner's specific requirements. The system is supposed to enhance comfort and convenience for people who live in the house. Using the simple mobile application, people can control the overall look, atmosphere, and devices of the home. The interface of the applications is quite friendly and simple.
How Can Tarkeeb Help in Home Automation with Latest Technology?
Tarkeeb has the best solutions for your home automation in Dubai as we ensure your convenience, data collection, comfort, and overall security of your home at your fingertips. Home automation was expensive a few years back, but not anymore. With Tarkeeb, you will get the best pricing for your overall home automation system with specialist technical staff. We use high-quality devices to help you enjoy all benefits of the home automation system. We ensure that our systems are worth paying for and can improve your quality of living. So, contact us today, and we'll see what we can do for you!
FAQs:
What are the benefits of home automation?
The primary reason to install an automation system at your home is for comfort and security. Moreover, it comes with other benefits such as convenience, savings, remote access, and peace of mind. The more advanced your home automation system will be, the more benefits you can have with it.
Which devices are most commonly controlled in a smart home?
The most common devices included in the smart home system have different varieties for different purposes. However, the main four categories are climate control, lighting, entertainment, and security.
Does home automation increase home value?
Yes, indeed. Home automation is currently in demand; hence, it increases the home's value with such an advanced system. Everybody wishes to live in a technology-driven smart home to enjoy its features. Homeowners are most likely to raise the asking price of their home if it uses smart home automation technology.
Is home automation worth it?
Yes, it is worth it. With several amazing features, it is considered a good investment. It even helps you save money and time. Investing in a home automation system is worth it because it gives you security and helps you with financial savings and comfort, which is everything to live a good life.